Keeping Willy Grunch alive – A local company's viral hit and a novel plan to revive it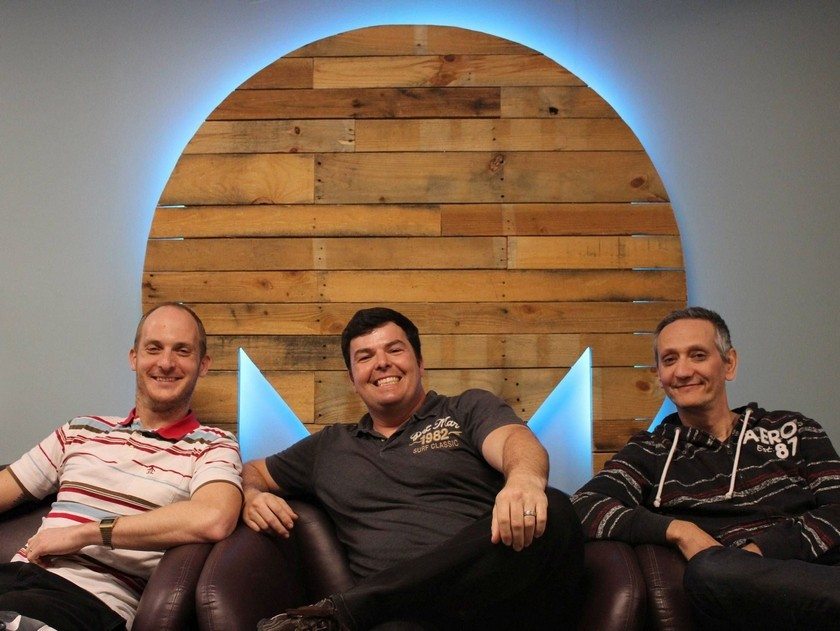 Three years ago, a small animation studio based in France called Moondog Animation Studios created a five-episode series about a lanky, trouble-prone guy named Willy Grunch. The company embarked on the project after Alain Auderset, the Swiss comic book artist who first created Willy, approached Studio Director JM Khayat about animating him.
So Moondog raised some money and made the five two-minute episodes about Willy Grunch, which they put on YouTube and Vimeo for anyone who was interested. Bryan Ransom, the company's CEO, said they did some marketing for the series, but right around that time, they were also busy relocating the company from France to Mount Pleasant.
In the years since, Ransom said the series would often come up, and they would talk about how they could reinvigorate it, including exploring the possibility of making it a TV show. But for a number of reasons, the animated Willy Grunch stayed confined to his five episodes online.
"It was there, and it would rack up a couple hundred views every month or so," said Ransom, "but it wasn't like thousands upon thousands of millions."
Virality
Then, just a about a month ago in mid-March, Auderset, the comic book artist, got an email. It was from a friend directing him to a Russian Facebook page. Whoever managed the page had posted one of Moondog's Willy Grunch episodes, and it was popular.
Within a week, the video had three million views, and the guys at Moondog found other pages that posted the video, five in total, and there may be more. Altogether, they counted nearly seven million views from just about all over the world, and everywhere it went, people were talking about it.
"There were hundreds of thousands of shares. There were like three or four hundred comments," Ransom said. "It was just going everywhere."
At first, they were mad. After all, somebody on the other side of the world had taken their work, chopped off the intro that attributed it to them and put it online. (The video still had the end credits, so it wasn't scrubbed of all attribution.)
But Khayat, the studio director, said that feeling was quickly eclipsed by a sense of validation.
Moondog's founders – Ransom, Khayat and CTO/Technology Strategist Ben Davis – formed the company with a mission, which is exhibited by the Willy Grunch series. Ransom said they want to make animated stories that do more than entertain, but have the power to make people think about big life questions.
Their videos are really geared toward the 15 to 30 age group, and while most animated videos geared at that group err toward the crazy and crude, Ransom said they put more stock in that group's desire to seek answers to those big questions. So, every episode of Willy Grunch has a theme, a sort of moral constructed by the choices Willy faces and the consequences of his decisions.
Khayat said seeing the video's popularity and the conversations it provoked felt like evidence – after three years – that there is a real desire and market for that kind of content.
"We had that proof," he said. "That was a good feeling."
"Kind of a, 'I knew it,' type of feeling," Davis added. "I knew it could work."
Free Willy Grunch
The video's virality also offered them valuable information about what people like. The five videos they created cover a spectrum of themes and how they are conveyed, and one video was more popular than the others. It clearly had a moral, but it was not as specific as in some other videos, and in the comments, people used that openness to interpret the theme how it made sense to them.
"People read into it how they want to because we're staying at that parable level," Davis said.
The video's newfound popularity also gave them momentum to build on to make more Willy Grunch videos. To make the first episodes, they started a campaign on Kickstarter and had huge success. Their goal was to raise $99,999 in four weeks. They raised $117,000, and in the process, they learned a thing or two about how to entice people to donate.
After a mediocre first week of the Kickstarter campaign, they dreamed up Workout Wednesdays. Whenever someone donated five dollars on a Wednesday, the Moondog team made a video of one of them doing five pushups, then calling out the donor's name. By the last Workout Wednesday, Ransom said six people did something like 250 pushups each, and they tried every way they could to make it fresh by doing the pushups in a hand stand or on top of a car. Plus, donors shared their personalized feats of strength on social media, prompting their friends to look up the campaign and get involved.
"Just awareness is one thing," Ransom said, "that interactivity of people is where you get that next stage."
As they move toward launching their fundraising campaign to "Free Willy Grunch" and make more videos, they've got ideas for how to once again make the donations interactive, but they're also doing a few things differently.
For one, they're getting Mount Pleasant-based developer Chris Wolf to make their fundraising site for them – willygrunch.com – set to go live today.
The episodes will be free, but donors will get access to live Q&A's and other perks.
But even more unique is there's no set end to the campaign. Instead, they'll keep making episodes as long as the money is coming in.
Khayat said that in a time when viewers can stream what they want when they want and their attention is being further divided seemingly every day, they're trying something different by giving the audience a say.
"We said okay, let's leave it to the viewership," Ransom added. "They can give five bucks today as a one time, or they can become a subscriber and give five bucks a month, or whatever they want to do."
And Khayat said, that leaves it to them, Moondog, to make content worth keeping alive – even after three years of sitting dormant.