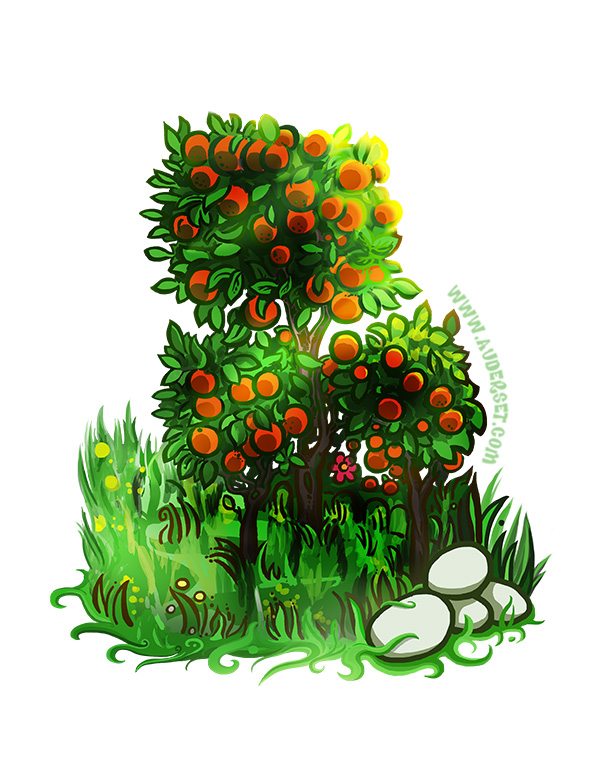 Autumn 2015 (3 years later)
A time to harvest
I sometimes have the impression that I'm a kind of gardener here on earth, with the responsibility of growing trees directly imported from the Garden of Eden. As far as I'm concerned, they are essentially artistic. Their fruits have a taste of good humour and produce faith when we bite into them

(yes, really!)

. I owe these wonders to Jesus, the Sun of Eden. Without a daily session sunning themselves by His side, my fruits would be seriously lacking in vitamins…
Each of them demands constant attention and grows very slowly! Take the musical orange tree, for example, it took no less than 5 years before producing its first fruit in the form of the CD Saahsal

(alternative rock

)! The same is true for the DVD with the sweet and sour taste of Lemon–Man-Show

(The One Man Show)

. As for the comic book tree, it benefits from the accumulated care it has received from us, and, as a result, only takes one or two years to bear its fruit. As for the woodland fruits growing in the shade of my Appointments in the Forest (Volume 2), they will soon be ripe. 
'Chance' has decreed that almost all these fruits reach maturity at the same time…Not something you see every day in the workshop! 
The envoy 1
I'm already busy watering a new, still tiny, comic-book tree, when I hear the telephone ringing over my shoulder. It's probably because I haven't quite emerged from my drawing that I don't put up more resistance to his strange request… At the other end of the line, a doctor suggests that I have a consultation with him so that he can speak to me about "something". Aaargh, probably a psychiatrist looking for a hopeless case…
It's sufficiently strange for me to have the urge to do the washing up…..

('cos I do it while chatting to God…)

. I have a distinct thought which comes to me suddenly from the invisible person I'm conversing with, and which ends up whetting my curiosity….well, well, well……you'd think that He was behind this appointment…. 
I get lots of visits at the workshop; and, my goodness, at times some of them are stranger than others …. (maybe one of my exotic plants exudes an hallucinogenic substance into the air!?) but, actually, I welcome such visits with particular attention.
The doctor, a laid-back but thoughtful person, explains to me that the Lord has commissioned him to create a group aimed at supporting my work.
Inside my head, I'm thinking: 'Lord, so you really had heard that request after all…?!'
I had got a whole pallet of Spanish comic books reprinted, which for the moment are merely gathering dust in a corner of my workshop.
(Following the episode in the Canary Islands, http://evangelicalfocus.com/magazine/795/The_Canaries_a_dream) ….and, what do you know, the doctor sets off with 300 of them under his arm with, as his first mission: making it known (!)
The envoy 2
A few days later, I'm just wondering how I'm going to cope with the imminent bumper crops, when one of my friends and counsellors turns up at the studio.
'Alain, d'you remember your Comic Book Without Words? Why hasn't it come out? I think that something needs to be done about it, so I've consulted two other friends

(one of them being the doctor!)

and between us we have decided to finance the printing. Here's the money for a first edition

(of 5,000 copies)

…
'Lord….seriously ? Now ?!'
So, in the end, I was present at the birth of that Comic Book Without Words*, as well as of the Auderset support group, whose principle mission, for the moment, is to help me distribute the former. 
Following this

(the telephone often rings right into my flat)

, I have had numerous requests that are out of the ordinary. Here's one particularly meaningful one: 
'Hallo Alain, we need your help! We'd like to reach the prostitutes in my town with the message of Christ's love, but unfortunately, they all speak a multitude of very different foreign languages, couldn't you produce a comic book without words?
'Man, that's crazy! It's only just come out…!!'
How heart-warming to see that everything had been planned in advance like that, and that, at last, I'm participating in a project which is so much bigger than I am, in every way… So the silence of all those years wasn't a question of falling behind or of failure, but a question of seasons.
Only the Master of Time really knows them, whether for our lives or for our projects. Whatever happens, let's remain confident in this invisible hand into which we have placed them. Some days later, the Comic Book Without Words set off to a similar charity, working amongst prostitutes in Geneva

(without any consultation with the first charity)

…
The book has also been ordered to be used in a prison setting, as well as for other fantastic projects….. 
The story continues
It's only taken three weeks to run completely out of stock, but thanks to a new gift, we've been able to print another 7,500 copies

(with Biblical references translated into 4 languages)

. Recently, a special edition has been ordered by a Swiss mission. The echoes of people touched by this funny little book are beginning to reach my ears… I'll probably have the opportunity to talk to you about them another time. 
In the iTunes store, iBook, etc.
Another fantastic thing: My comic book Conventional Wisdom (as well as Robi, Marcel and Willy Grunch) is now available in a digital version in French, English, German and Spanish. 
With Saahsal, (www.saahsal.com) the music group, we're playing more and more often in real hotspots of rock… May your thoughts towards us be as fertiliser for our creativity!
*to see Comic book without words for yourself, follow the link: www.auderset.com/bd-sans-parole