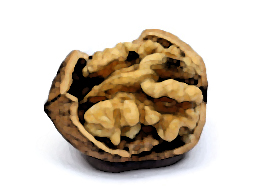 The weed
I'm on my knees in the garden,
Oicking out the weed,
I pray.
To speak truly, the ''weed''
does not exist
All the things God has created is good. *1
Almost like all our activities…
*1
For exemple: the nettle
– if it picks you, it's good for the blood
– having a bath with it is good for rheumatism
– eating it is good in the salad
– even the ground is purified by it… (crazy!)
The gardener's plan
It's fair that every weed steals some energy to the plant I want to see growing
It's the same thing during your days,
Too many activities prevent you to take care of ONE particular project the divine gardener planted….
Thereby, on the collect day, there might be few fruits…
The priority?
Well, for me,
The first thing I do is going into the forest seeking God
I'm strange, no? My own fruit will be original then…
The walnut
Fredo, a friend of mine, has a little swimming-pool behind his house.
While I'm looking at it, I saw a walnut
–       "Alain, do you know we have to wait for 20 years before receiving fruits from it?"
My friend's speech brought me into a deep well of thoughts, and the water starts recovering my eyes… (20 years!?! P#*&!!)
Thereby, God conceived projects whose fruits will only be seen after a long, very long time and this is normal…!
The nut
This fruit is very beneficial for the heart (it reduces up to 50% of the cardiovascular risks)
 
Your tree
Continue gardening, take out the pride (smothers life; source of every argument)
And the rocks (non-fructuous hardness of the heart)
Continue questioning yourself, water your prayers, light with patience, love and care,
With a positive faith this tree which is your child, your family, your couple, your church, your projects if you don't see the fruits yet.
There will probably be a precious walnut who will heal hearts.
Your littl' Alain
www.auderset.com