Read on the original website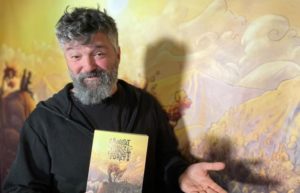 Alain Auderset releases a new graphic novel. The imérien artist varnishes this Saturday the volume 4 of "Rendez-vous dans la forêt". The first copies have already sold more than 25,000 copies across the Francophonie. The author tells us about the encounters in nature with passers-by, friends or even his Creator. With this new volume, it is above all behind the scenes of his life as an artist that Alain Auderset takes his readers. He takes them from the Frankfurt Book Fair to the dark night of the forest of St-Imier.
The opening takes place on Saturday. First online from 11 am. The doors of Alain Auderset's Imérien workshop, at rue de la Malathe 14, will then be open to the public from 5 p.m.
It will be possible to obtain volume 4 of "Rendez-vous dans la forêt" at the counter of the post office in St-Imier and the surrounding villages. It will also be available on Alain Auderset's website.